Save the Date: Conference on Aging for New Mexicans 50+, November 16- November 18
State's Aging and Long-Term Services Department seeks to highlight "Adapt, Overcome, & Thrive" programs at annual conference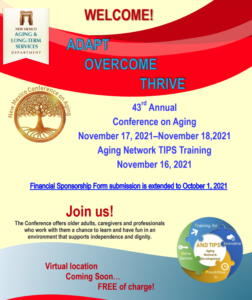 NEW MEXICO — The State's Conference on Aging has a long history of being an event that brings together New Mexico's population of adults 50+. Over the past 43 years, the Conference has hosted countless speakers and presenters who have graced their stages to share remarkable stories, best practices, and innovations. New Mexicans from across the state converge on the conference, boasting of 1,500 to 1,800 attendees each year.
 This year, to keep participants safe, the conference, on November 17th and 18th, will be virtual with presenters from all across the state coordinating their workshops via video and streaming. The State's Aging and Long-Term Services Department [ALTSD] coordinates the conference each year, there are several perks to the first-ever virtual conference.
 "For the first time in the history of this conference our participants will be able to join us from the comforts and safety of their home. Because the conference is virtual, there's another 'first'- the entirety of the conference will also be available online following the conference, increasing accessibility and access to knowledge and resources for our seniors," said ALTSD Cabinet Secretary Katrina Hotrum-Lopez.
 An interactive feature of this year's conference includes poetry submissions, recipe submissions and pet photos- seniors and adults with disabilities can submit their photos, recipes, and poetry through the ALTSD website (click here). All submissions will be entered into a drawing for prizes.
 Conference workshop and presentation topics include:
Advancing Independence

Alzheimer's Disease/ Dementia

Caregiver Support

Elder Abuse

Elder Care Programs (Medicare & Medicaid)

Healthy Eating

Financial Stability

Mental Health

Social Isolation & Loneliness
 ALTSD is actively looking for sponsors for the Conference, the full sponsorship package and benefits of participation can be seen here. Spots are filling up fast and the deadline for becoming a sponsor is October 1, 2021.
 The State of New Mexico Aging and Long-Term Services Department [ALTSD] serves more than 200,000 seniors, adults with disabilities, and caregivers across the state with support, services, and resources. Throughout the pandemic, ALTSD provided more than 3 million meals to seniors and adults with disabilities and continues to provide approximately 21,000 grab-n-go meals each day. With a dedicated staff and the help of 4,700 senior volunteers, the department strives to help thousands of New Mexicans achieve healthy aging, attain lifelong independence, and maintain their dignity.