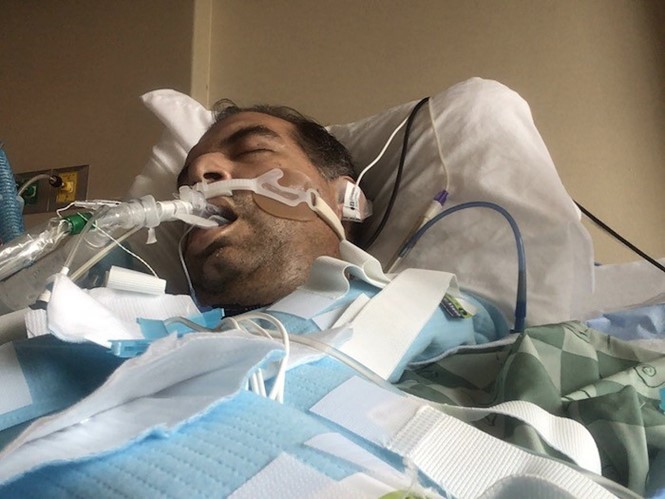 My hope for sharing this very personal story with you all is to bring awareness to the severity of COVID-19 and the importance of getting vaccinated.
A lot of people have suffered infection, many with minor symptoms and others with severe symptoms up to and including death. I was very blessed to have the strength to fight for my life and survive.
I first contracted COVID in late November 2020 through unsuspected contact with family member(s) who were infected. After learning that my mother whom we provided care for tested positive, I immediately called and arranged for a COVID test on a Friday evening and was scheduled first thing Monday morning for a test. By that time the incubation period had occurred, and I started to feel and experience the symptoms that the nasty virus began to inflict on my body. Tuesday afternoon I received the dreaded call to let me know that I too was positive.
Now I would consider myself a healthy person with no underlying conditions, but I knew my spouse was asthmatic so real panic set in for her and my children's sake, trying to figure out how we can distance from each other. Like dominos we all began to fall and get sick; a total of 18 family members were now feeling the effects, some with mild symptoms and others with COVID pneumonia.
I was one of those who got severe COVID pneumonia and while I tried to recover at home, I finally had my spouse drive me to Presbyterian Española Hospital on Dec. 1 as my breathing became increasingly difficult. After arriving at the emergency room entrance, we said goodbye, shook fingers, and inside I went.
As time went on, things just got worse despite all the medical treatment I was receiving to the point where the doctor said, "You need to be put on a ventilator to increase your chance of survival."
I was scared beyond belief. To me, being placed on a ventilator was a death sentence and I feared I would never see my wife and kids again, especially since my mother passed away just days before from her COVID infection.
Fast forward to Dec. 28. I was taken off the ventilator after 17 days, intubated, and miraculously I was breathing on my own. I was 40 pounds lighter and very weak.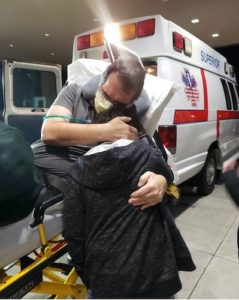 Eventually after gaining some strength in ICU, I was transferred to inpatient rehab where I had to learn how to walk, move my arms, use my hands, and do all the things we take for granted every single day.
The evening I was transferred, my wife and kids eagerly awaited to greet me at the transfer ambulance, which lasted about 7 minutes but it was the best 7 minutes of my life. This was the first time we got to hold each other since I went in.
I finally got discharged on Jan. 25 after a total of 56 days away from home — but this was only the beginning of a long road to recovery. They don't call COVID survivors "long-haulers" for nothing!
I owe a debt of gratitude to the nurses and doctors and therapists of Presbyterian Espanola Hospital and Christus St. Vincent In-Patient Rehab for the care I received. Also to my family, including my work family, whose outpouring of support, prayers and concern meant the world to me.
While I truly wanted to get the vaccination while I was hospitalized as it had just become available, at that time those vaccines were only to be administered to hospital staff. I registered with the state Department of Health for the vaccine and while my body had built up antibodies, getting the vaccine was super important to me, especially after what I had just gone through.
Eventually, I became eligible at LANL for the vaccine and scheduled my visit to the Emergency Operations Center for the Pfizer shot. The process was easy, the traffic lines moved a lot faster than I anticipated and the shot was painless.
The first shot was not too bad; I got a really sore arm and a little warm in the middle of the night but nothing too bad. It was not until my booster dose that things got yucky. I started shivering around 1 a.m. and spent the next 18 hours with fever, aches and in bed — but by dinnertime I was fine and happy that it was finally over.
My lifestyle has not changed drastically since the vaccination. I still mask up and take all the precautions, but at least I feel like I have the coverage that I desperately needed to fight back against COVID and to help protect others. If only I had the vaccine before I got sick, the outcome would most likely been less severe.
It feels good to be able to gather with your siblings and other family who are now fully vaccinated and have some sense of normalcy after a long period of trying to remain socially distanced.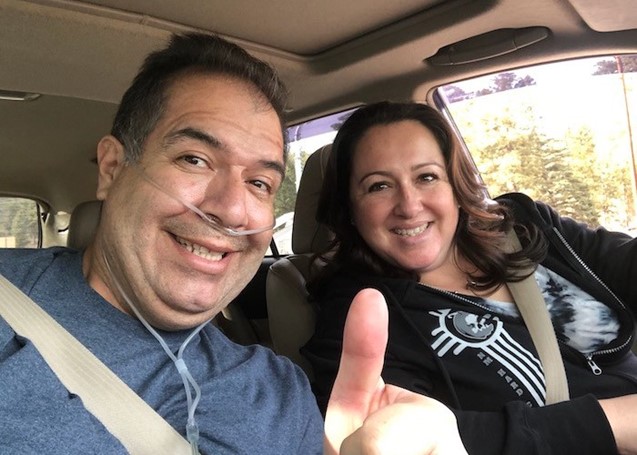 I do feel a bit sorry for those who are misinformed by social media about the vaccine or think this is all a conspiracy by the government. My advice is to get vaccinated as this is the best chance we all have to get through this challenging time.
While my story is much summarized and does not tell every detail, one thing that I learned is that life is precious, take nothing for granted. This pandemic is not fake news, not the Flu and should be taken very seriously. You never know how your life or someone else's will be affected.